DETAILS
Corn tortilla machine for corn chips doritos.
Corn tortilla chips is popular snacks in the market. There are baked tortilla and fryed tortilla. Normal it is round shape and triangle shape. After flavoring, the corn tortilla snacks is tasty and crispy. The yellow colour is also beautiful.
1. The formular of corn tortilla snacks.
Corn power, rice powder, wheat flour, potato starch, corn starch, oil, salt and so on.
Water will be added about 12-15% in raw materials.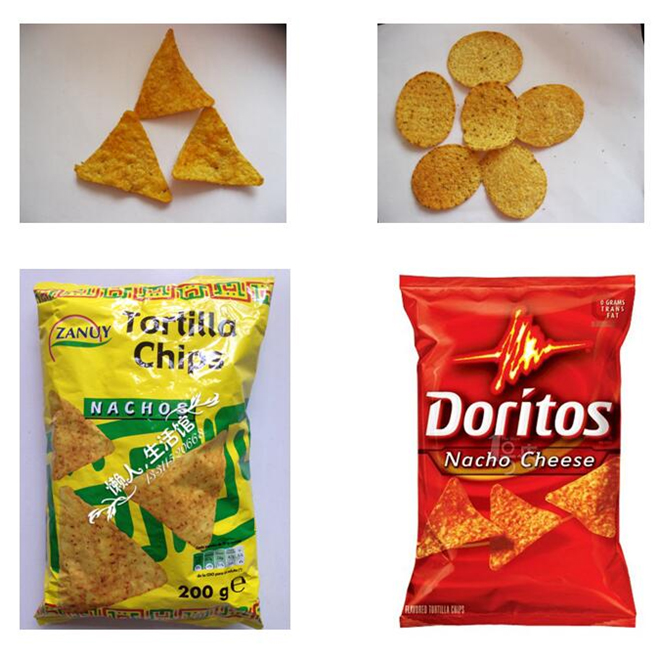 2. Flow chart on corn tortilla snacks.
a. Mixer machine. Different materials are added into machines with water. It will mix power materials avaragely.
b. Conveyor machine. This machine collect mixed materials and transport into extruder materials holder.
c. Mixer machine. The corn chips tortilla snacks will be cooked shaped into a thin sheet.
d. Shape machine. The thin chips sheet will be press cutted into round and triangle shape.
f. Fryer machine. Tortilla chips snacks needs fry 40-60 seconds.
g. Flavoring machine. It could make snacks into different tasty to suit different customers.

3. Capacity of tortilla, doritos machine.
AVN65 machine line has capacity 120 kg per hour. Power consumption is about 90 kw.

AVN70 machine line has capacity 200 kg per hour. Power consumption is about 120 kw.
AVN85 machine line has capacity 500 kg per hour. Power consumption is about 150 kw.
Now the AVN65 and AVN70 machine line is famous in market.
4. Factory support.
Avan Machinery will support the whole machine lines, from A to Z.
Avan Machienry engineer is available to install machines oversea.
Machine Guarantee time is 12 months.
Engineer will teach workers on machine operating.

If you have plan to start the corn tortilla, doritos ,corn chips snacks project, welcome your inquiry.

Video showing.