DETAILS
Fortified rice project, Fortified rice project machine
Artificial rice refers to the addition of various nutrient-enhancing substances to raw materials such as rice, which are granulated by artificial methods and dried to make granules similar to natural rice.
The double screw extruder machine could produce the good artificial rice with high capacity.
The vegetable is add into materials to produce green rice, corn powder is used to produce golden rice.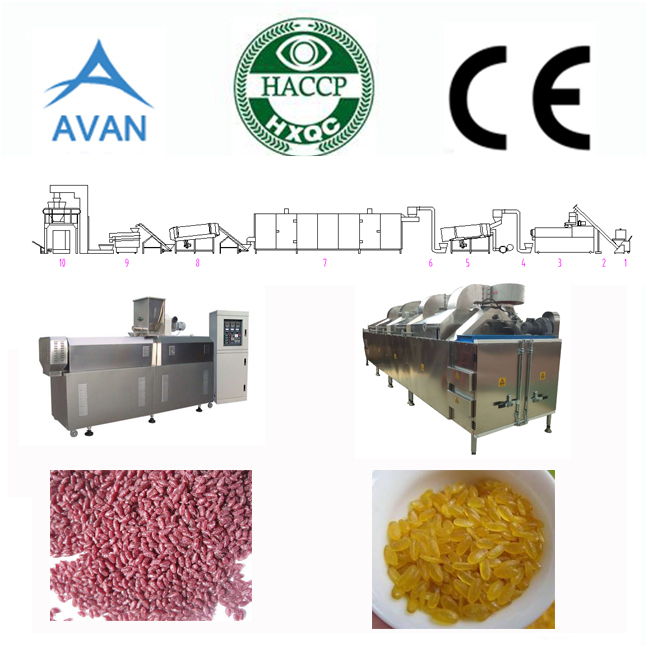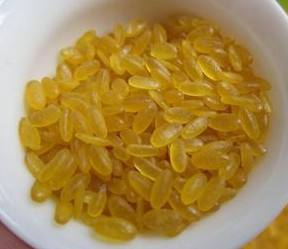 The flow chart of artificial rice.

1. mixer machine, 2. Conveyor machine, 3. extruder machine, 4. Conveyor, 5. Polisher machine, 6. Conveyor,

7. Low temperature dryer machine, 8. Cooling machine, 9. Grader machine, 10. Packing machine.

Double screw extruder artificial rice machine capacity.

| | | | |
| --- | --- | --- | --- |
| Extruder machine | Capacity | Power | Dimension |
| AVN65 artificial rice machine line | 100 kg per hour | 95 kw | 20 meters |
| AVN70 artificial rice machine line | 200 kg per hour | 120kw | 25 meters |
| AVN75 artificial rice machine line | 300 kg per hour | 150 kw | 30 meters |
| AVN85 artificial rice machine line | 400 kg per hour | 180 kw | 35 meters |
The following is one formular of artificial rice.

Corn, green adzuki beans, red adzuki beans, glutinous rice, rice, and bitter buckwheat are used as raw materials.

After screening and cleaning, corn peeling and umbilical, crushing, blending and stirring, puffing and drying, the ratio of the formula used for each raw material is In terms of weight percentage),

The recipe of artificial rice.

corn ultrafine powder 20-50%;
green adzuki ultrafine powder 5~25%;

red adzuki ultrafine powder 10-30%;

glutinous rice ultrafine powder 2~9%;
rice ultrafine Powder 15 ~ 40%;

bitter buckwheat ultrafine powder 2 ~ 18%.

The food safe of artificial rice.

On the basis of completely guaranteeing the protein, fat, carbohydrate and dietary fiber inherent in food, many trace elements required by the human body such as carotene, β-carotene, vitamin B1, B2, riboflavin and lysine are added. Acid, calcium, selenium, magnesium, iron, etc., only the vitamin content is 5-10 times that of rice and wheat. It has fine taste, good palatability, good taste of rice, strong appetite, easy absorption, low sugar, low starch, and people's body. Good health food, without any additives.