DETAILS
Corn Flakes Manufacturing Machine
Corn flake machine introduction.
The corn flake is mainly breakfast food in many countries. It is make by baked flakes of maize. The breakfast cereal corn flake is popular all over the worlds now. Here Avan machinery supply the extruison machine line on producing of breakfast cereal corn flakes. The corn power and other nutrition power are mixed together with waters. The double screw extrusion machine could produce the corn pellets balls with half cooked. The flake press machine could make flakes from pellets ball. After roasting, sugar sprayer and drying. The corn flake is ready to east.
Corn flakes machine producing line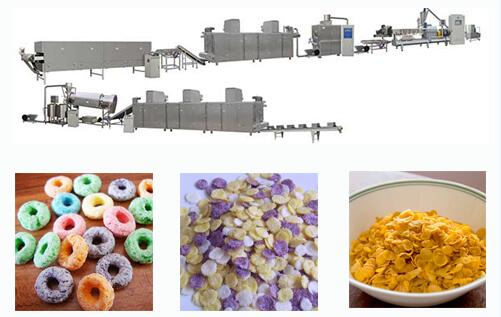 Mixer machine.


This machine is mainly used to mix all materials together with water. And make materials ready to cook.

Conveyor machine.

The conveyor machine is a transport equipment, which left mixed materials into twin screw extrusion machine hopper.

Twin screw extrusion machine.

The extrusion machine could produce the pellets ball of flakes. The pellets ball is half cooked, and not puff ball.

Vibrate cooling conveyor.

This machine's function is cool the pellets ball and stop them stick together.

Conveyor machine.

Flake press machine

The corn flake press machine is mainly used to get flake from pellets ball. There are two big rollers to press pellets materials.

First dryer oven.

The baking machine.

Baking machine could full cook the flakes. It could be gas, electricity energy.

The sugar sprayer machine system.

Including the sugar sprayer drum, sprayer tanks.

Second drying machine.

Cooling machine

Packing machine.
Machine advantage of corn flakes line
* Automatic working , automatic control. Easy to operate.

* Food grade materials, stainless steel. Easy to clean.
* One set turnkey solution.
* Different capacity extrusion lines could be choosed.

* Supply the install and debug working, engineer is available over sea.
* Whole life technical support.