DETAILS
Corn Puff Making Machine Double Screw Extruder
1. Extruder Machine Introduction.

The extruder machine could make the high temperature, high pressure to cook the raw materials with heater and screw working. As the materials come out from extruder moulds. It gets puff.
Normally we add water inside raw materials, so the dryer machine is needed to take out moisture from shaped puff snacks. The snacks will get more crispy after the dryer machine.
The flavoring machine is necessary to make our puff snacks different taste to suit different customers.
2. Snacks Machines Flow Chart

A. The mixer machine is used to mix different raw materials together, and also water with details recipe.

Different snacks needs corn powder, rice powder, wheat flour, starch, water, salt, and other addtion. Mixer time is 5-10 mins per batch.
B. The conveyor is used to collect mixed materials and transport into double screw extruder machine.
C. The double screw snacks extruder. This is the main machine to produce the puff snacks. Materials will be shaped to different favorite snacks.
The extruder machine is controlled by inverter, so the speed is well to adjust. The heater system is automatic control. When the temperature arrives to set data, heaters will stop working automaticly.
The moulds is available to change, so double screw extruder machine is the multi-function to produce different snacks.
D. Conveyor. This machine is used belt type. It could collect the puff snacks from double screw extruder. And transport to dryer machine.
E. Dryer machine. Normally there is water in the snacks formula. So the dryer machine is necessary.
The dryer machine also could make the puff snacks more crispy.
F. Flavoring machine. There are more taste snacks, like chili, cheese, salt and so on. This machine will add flavoring powder on the surface of puff snacks. Heat plant oil is the stick materials.
G. Packing machine.
3. Snacks Machine Capacity.
Here we have different capacity double screw extruder machine for choose. The low capacity machine is suit on first investment customers.
Th following is details data.

| | | | | |
| --- | --- | --- | --- | --- |
| Item | Capacity | Snacks extruder | Dryer machine | Power consumption |
| AVN65 snacks line | 120-150 kg per hour | AVN65 Extruder | Three layers five meters | 120kw |
| AVN70 snacks line | 200-250 kg per hour | AVN70 Extruder | Five layers five meters | 150kw |
| AVN85 snacks line | 500-600 kg per hour | AVN85 Extruder | Five layers seven meters | 200kw |
| AVN95 snacks line | 1000-1200 kg per hour | AVN95 Extruder | Five layers eleven meters | 300kw |
4. Machine picture shows.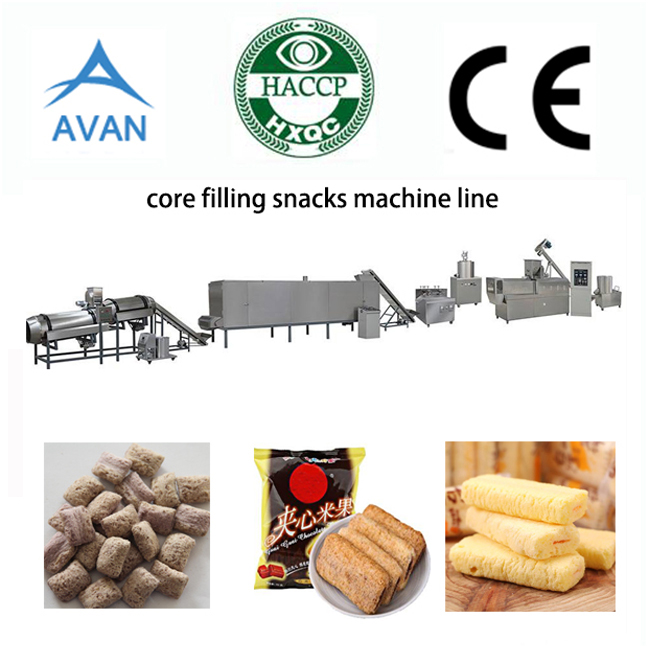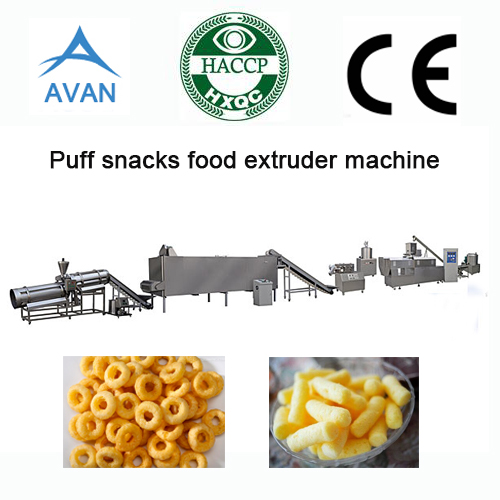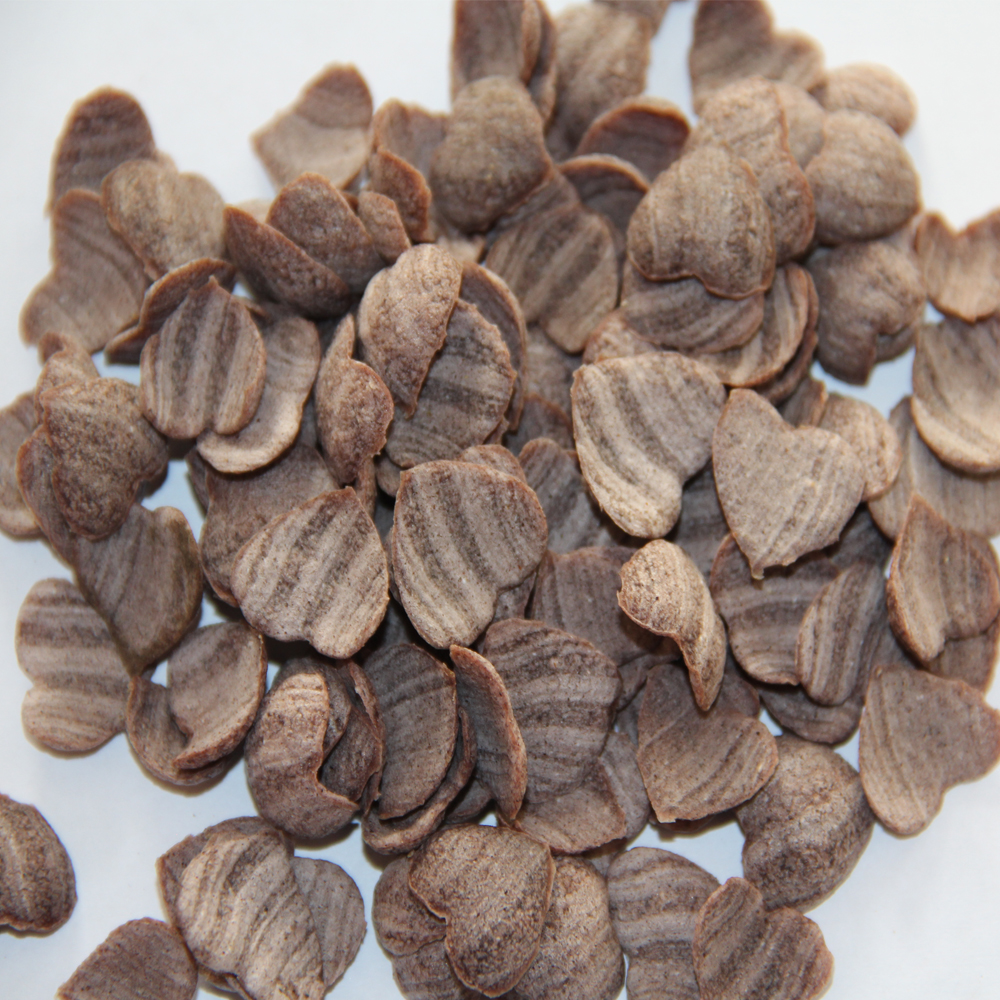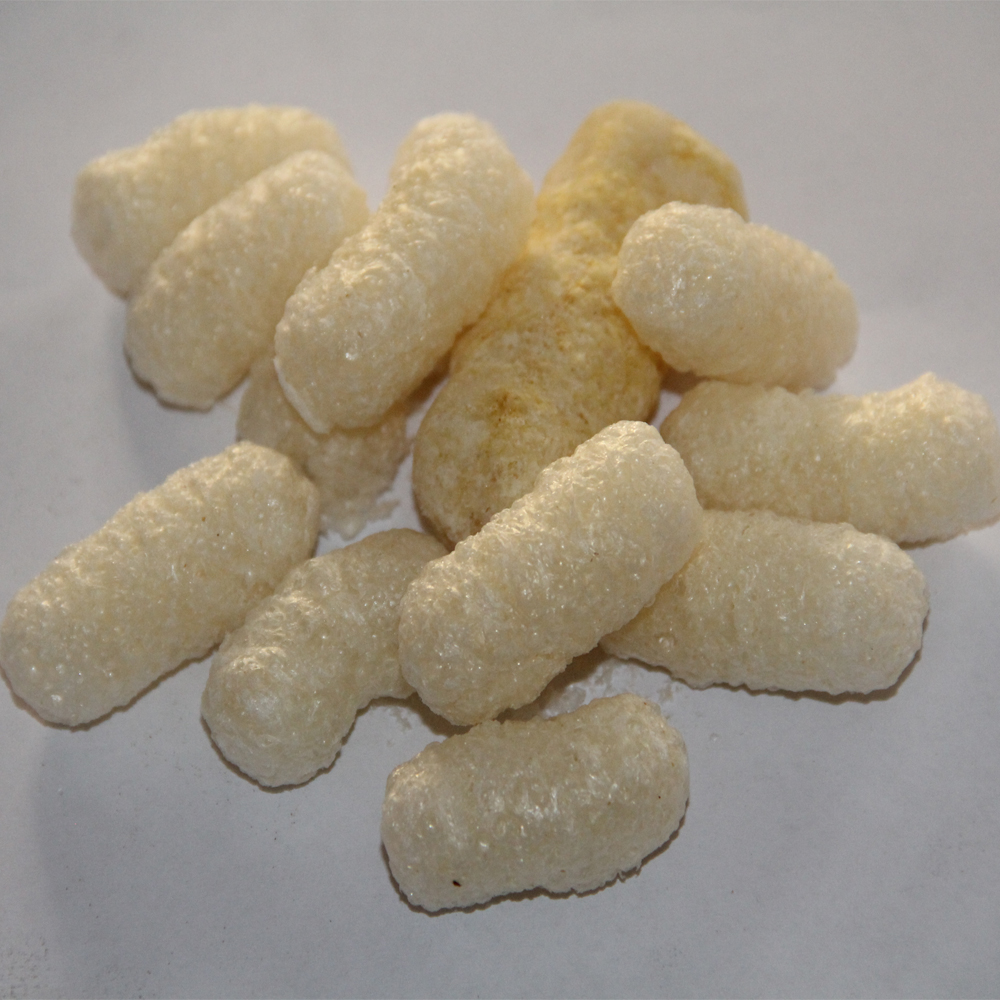 If you have plan to produce the puff snacks, welcome your inquiry. We will supply details information.
Video showing.